How to Crochet a Simple Shark Bow
Shark Bows for Shark Week
Are you ready for summer? I know it's official when I start to see ads for "Shark Week" and alas it is time!
In honor of summer and the infamous "Shark Week" I want to share one of my most loved patterns, the "Shark Bow". The shark bow was inspired by that catchy annoying song your little ones love and boy do my little ones love it.
The shark bow is adorable and versatile. They can be used as...
hair bows

barettes

headbands

bow ties

dog collar embellishments

purse or backpack clips
This pattern can be whipped up in less than an hour. It is simple and beginner friendly. So grab your hooks and scraps of yarn because it doesn't take much!
To get the full written and photo tutorial check out this inexpensive PDF Digital Download available below or on ETSY, and Ravelry.
You may make items to sell with this pattern however, do not use my photos as your
own and please do not distribute or modify my pattern as your own.
I'd love to see your finished bows! Please tag me on instagram
Materials
Worsted Weight Yarn (scraps will do!) in Body/Fin color, White, Black, and Bow color

F and C hook (3.75 and 2.75)

6mm Safety Eye

Yarn Needle

Scissors

optional hair tie or alligator clip
Stitches
Ch: chain

Sc: single crochet

Mc: magic circle

Tr: treble crochet

Sl st: slip stitch

St(s): stitch(es)
We will start by making the "bow" shark body.
Using your "F" hook and body color:
Row 1: Ch 24. Sc in 2nd ch from hook and each ch across (23).
Row 2: Ch 1. Turn. sc in each sc across (23).
Rows 3-4: Repeat row 2.
Row 5: Ch 1. Turn. Sc in first sc and next 12 sts (13) (you will not finish this row,
there will be 10 sts left, move on to the next row)
Row 6: Ch 1. Turn. Sc in each SC across (13).
Rows 7-10: Repeat row 6.
Row 11: Ch 1. Turn. sc in first sc and next 12 sts. Ch 11. Turn your work. Sc in
2nd ch from hook and each ch and st across (23).
Row 12: Ch1. Turn. Sc in each sc across (23)
Row 13-15: Repeat row 12.
Finish off weave in your ends.
Pinch bow from the center and fold it like an accordion.
Cut a long piece of yarn to wrap yarn around the center sts (approximately 25 times.) Finish off and weave in end.
Time to make the fin.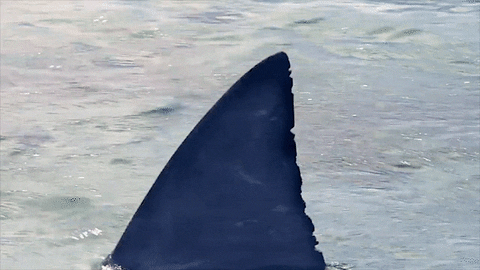 Fin
Row 1: ch 2. Sc in 2nd ch from hook (1).
Row 2: ch 1. Turn. 2 sc in st (2).
Row 3: ch 1. Turn. sc in first sc. 2 sc in last st (3).
Row 4: ch 1. Turn. sc in first sc. 2 sc in next st. sc in last st (4).
Row 5: ch 1. Turn. sc in each st across (4).
Row 6: ch 1. Turn. sc in each st across (4).
Finish off. Leave a long tail for sewing.
Little Bow
Using "C" hook and Bow color choice yarn:
MC.
[ch 2. 6 tr. ch 3, sl st into mc] repeat from [ ] one more time.
Tighten MC and use tail to wrap around the center of bow several times.
Weave in ends.
Finishing Touches
Attach safety eye. You could also embroider the eye if you prefer. Both are equally adorable. Here is an embroidered eye sample:
Sew the fin on.
Stitch teeth using white yarn.
For a more in depth, detailed description of stitching the teeth check out the PDF Pattern.
Attach bow just below the fin or leave off the bow for an adorable bow tie.
You can attach the bow to a headband, clip, etc...the possibilities are endless, have fun with it!
Now wasn't that fin, I mean fun? Now, show off your shark bows in action. Tag me on insta @ButFirstCrochet
Finally.....You knew you wouldn't get out of this post without seeing a squishy toddler or a cute puppy in a shark bow right?.....
Squishy Toddler 👇
The cutest Pup 👇
Never miss a pattern or class! Subscribe here to get all the latest updates straight to your inbox.
Happy crocheting friends!
XOXO,
Mommy Shark